Borgottie Forges Finale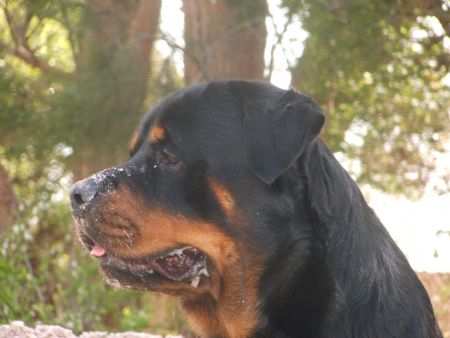 Multi V Rated Borgotti Forges Finale
17 -04 -2004 to 17-01-2012
Words cannot express the loss I feel when Forge left this world.
Forge used to take me to bed, when I was sick, he would lie next to me. to make sure I was alright.
When I was sad, he mad me happy, when I was angry he made me laugh!
Theres not many that got to know this special boy and I wanted to share what i was experiencing and I let him go and live with Mel & Jas.
Now they know what I know and that is the only way to descibe him was
"that's Forge"
Once you got to know him he was literally part of you in every sense of the word !!!!!!!
Forge/Tank, you were my pride and joy, and always will be !
I hope your progeny does you proud !
Have fun and enjoy the Rainbow Bridge, I know you are watching over me.
Miss you ! RIP xxxxx
Here is Forge with Chris taking Liam for a ride.
Above Forge at his Breed Survey in 2005. He was 18 months old. Passed !!!
Here is Forge teaching my kids how to dig !!!
Thank you to Sharon Waho for taking the above photo of Forge
Above photo is of Forge the WCRC Rottweiler Specialty. He was VP1 16/04/2005
Here is Chris, & Forge admiring one of his pups.
Here is Forge and I playing tug - a - war !!!!
Rest in Peace my friend xxxxxx
Contact Details
Karen Richardson
Bakers Hill, WA, Australia
Phone : 0427 380 186
Email :
[email protected]