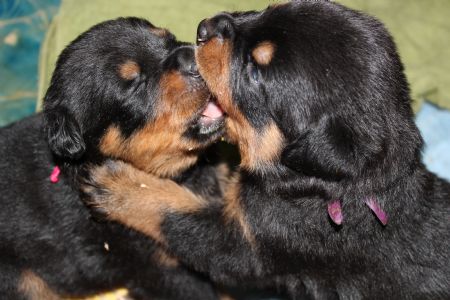 Welcome to the home of Jahwohl Rottweilers
Our Rottweilers Speak for themeselves !
Breeders of Natural Bob Tails
I would like to announce that Jahwohl Rottweilers and Littlecotage Rottweilers owned by Shaun Kennedy have joined forces. Great times ahead.
We here at Jahwohl been breeding for over 30 years.
All our dogs have been raised in a family environment. We are located in Perth Western Australia.
I bred under the Primarch Prefix for approx 10 years and went back to Jahwohl Prefix.
We have bred and owned V and Multi V Rated Dogs.
Primarch Victoria (Jessie) is my first to be awarded all the 11 V Ratings in Perth WA.
Our breeding complies with CAWA guidelines.
All Natural Bob Tails are DNA Tested & Vet Certified.
Contact Details
Karen Richardson
Bakers Hill, WA, Australia
Phone : 0427 380 186
Email :
[email protected]
86065 Visitors